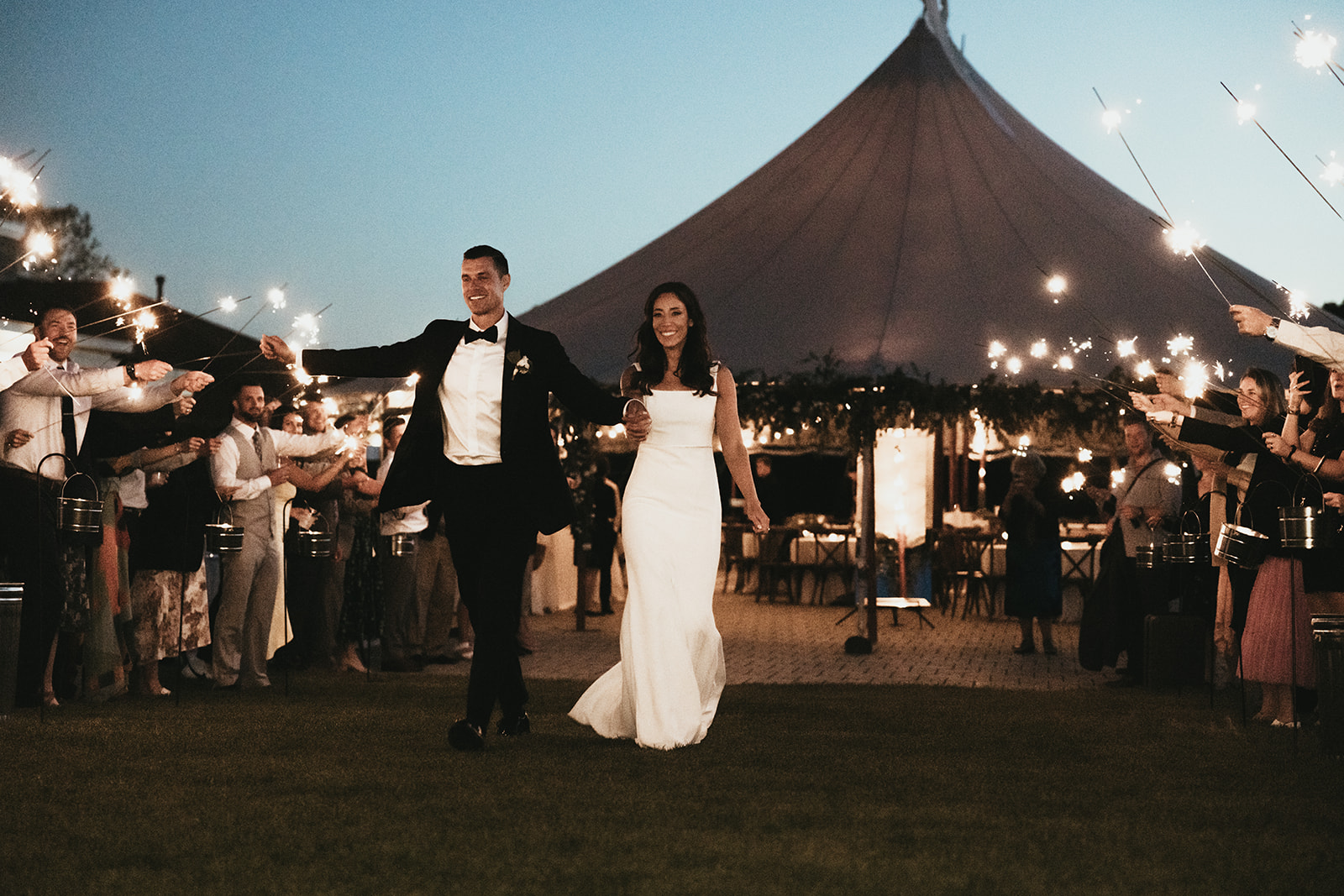 At Wentworth by the Sea Country Club, our experienced Wedding & Events Team knows choosing vendors and elements to reflect your personality as a couple and bring your 'saved' photos to life are important decisions in the wedding planning process.  
To help aid your planning, we are highlighting various offerings from Sperry Tents Seacoast – a premier provider of handcrafted tents, custom dance flooring, thoughtful lighting decor, charming glassware and more to the New England region. Read on to explore how to create a decorative reception ambiance that you and your guests will cherish for years to come.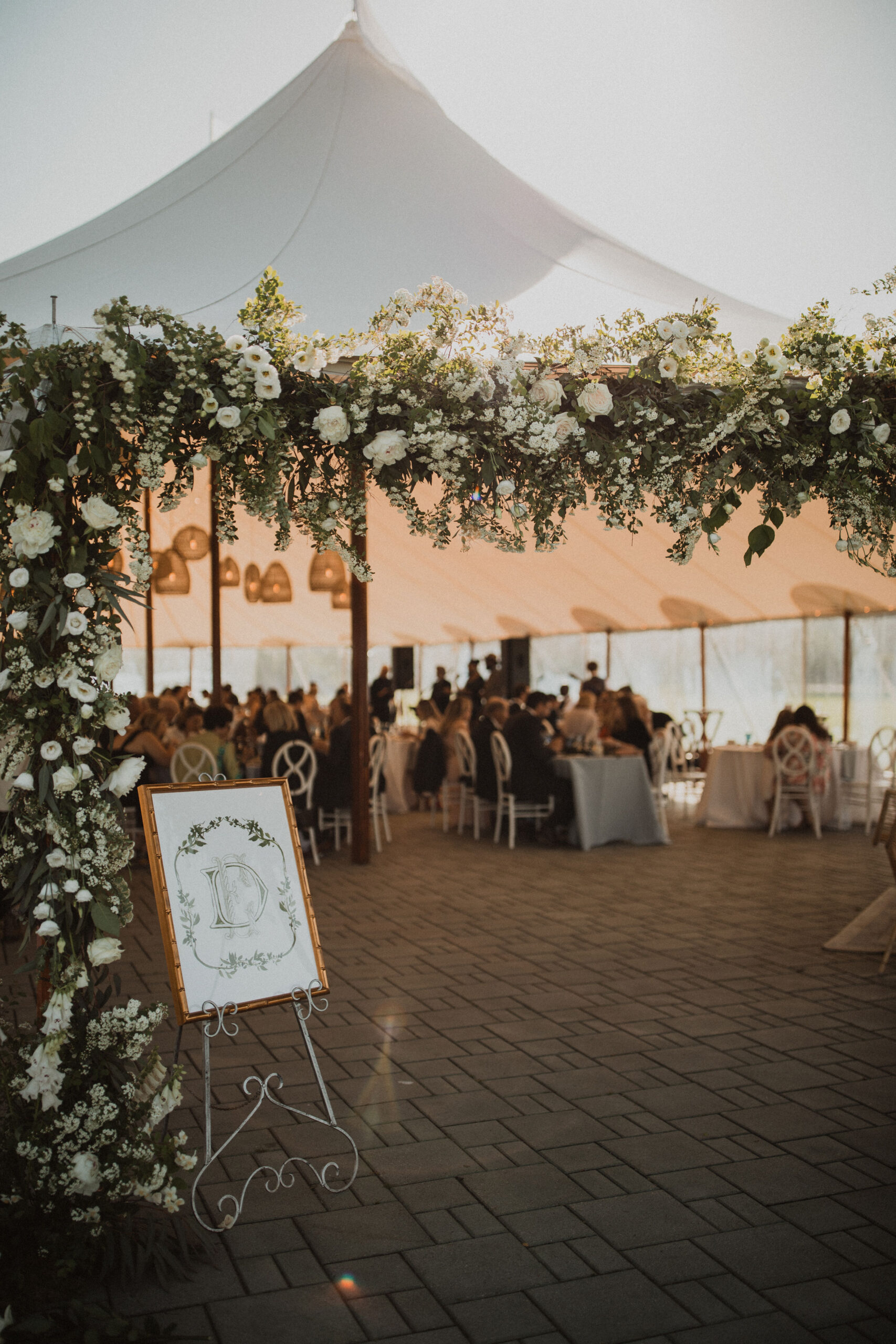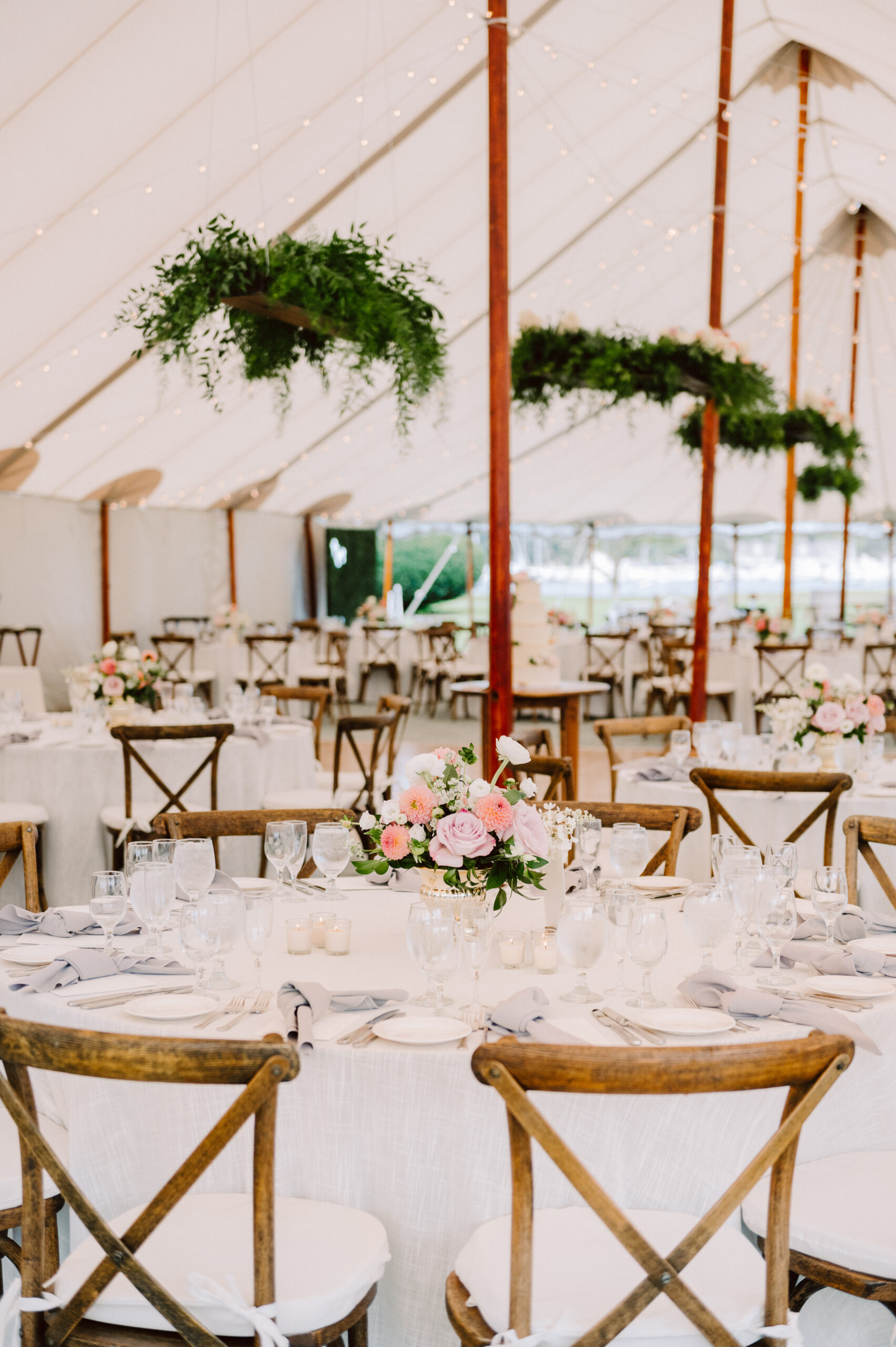 The Sailcloth Tent
Sperry Tents Seacoast brings together the allure of New England's seafaring tradition with elegant craftsmanship. With high peaks, billowing flags and siding options for protection from the elements, a Sperry tent adds a touch of elegance to your wedding venue. The simplicity and neutral palette of the tent serves as the perfect canvas, enhancing any color scheme or decor.
Wentworth by the Sea Country Club offers two sizes of their sailcloth tent to perfectly suit your wedding reception's needs.
Possibilities with Sperry Tents Seacoast
Flooring
A particularly captivating element that stands out under the sailcloth tent is the dance floor. Couples can choose from a variety of styles, including solids to patterns, each adding its own charm to the wedding reception.
Opting for a natural-looking wood grain dance floor harmonizes beautifully with the traditional sailcloth of the Sperry Tent. Or, showcase a vintage vibe by choosing a black and white checkerboard dance floor – a trend highlighted by The Knot – to provide a cool contrast to the crisp, clean lines of the tent.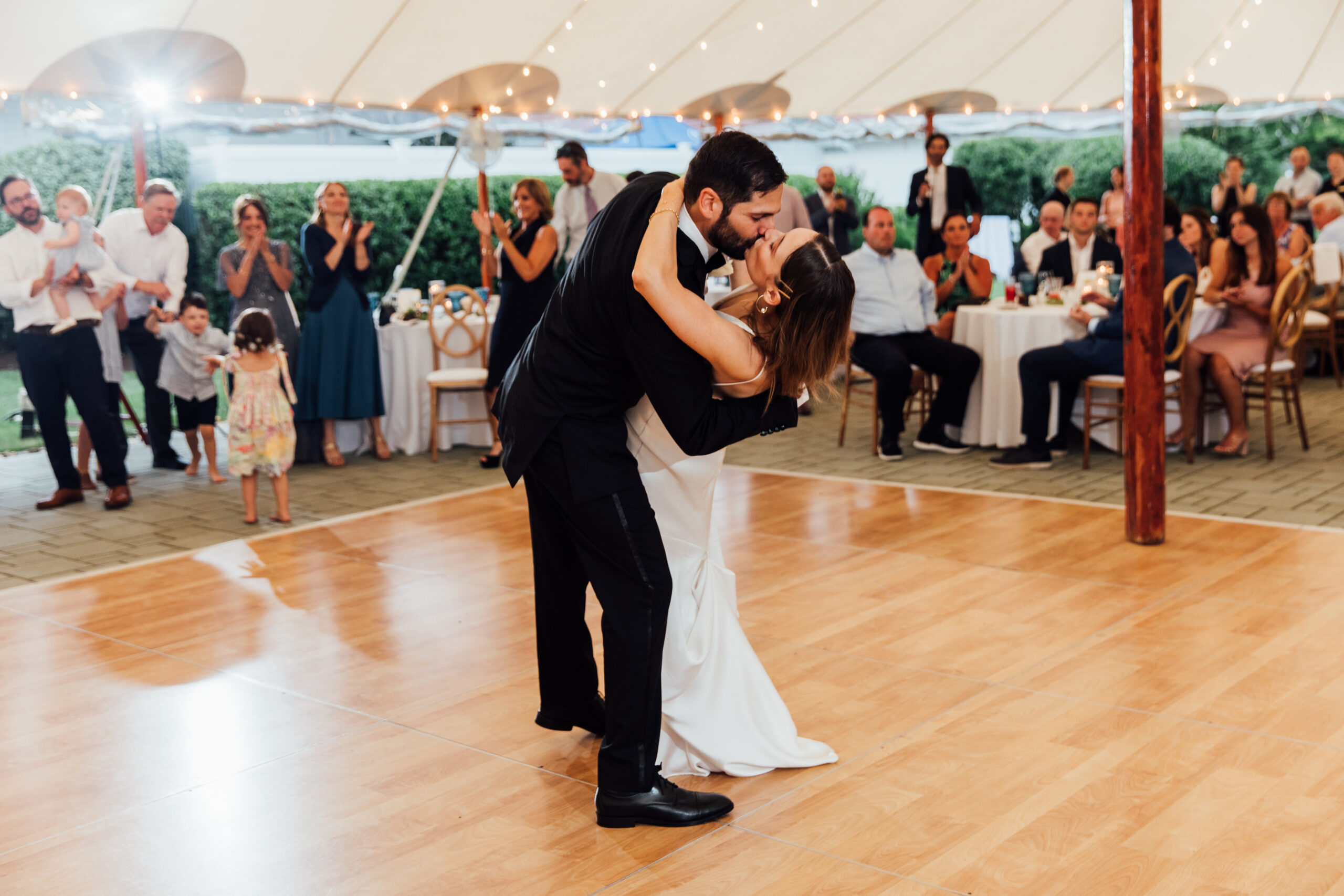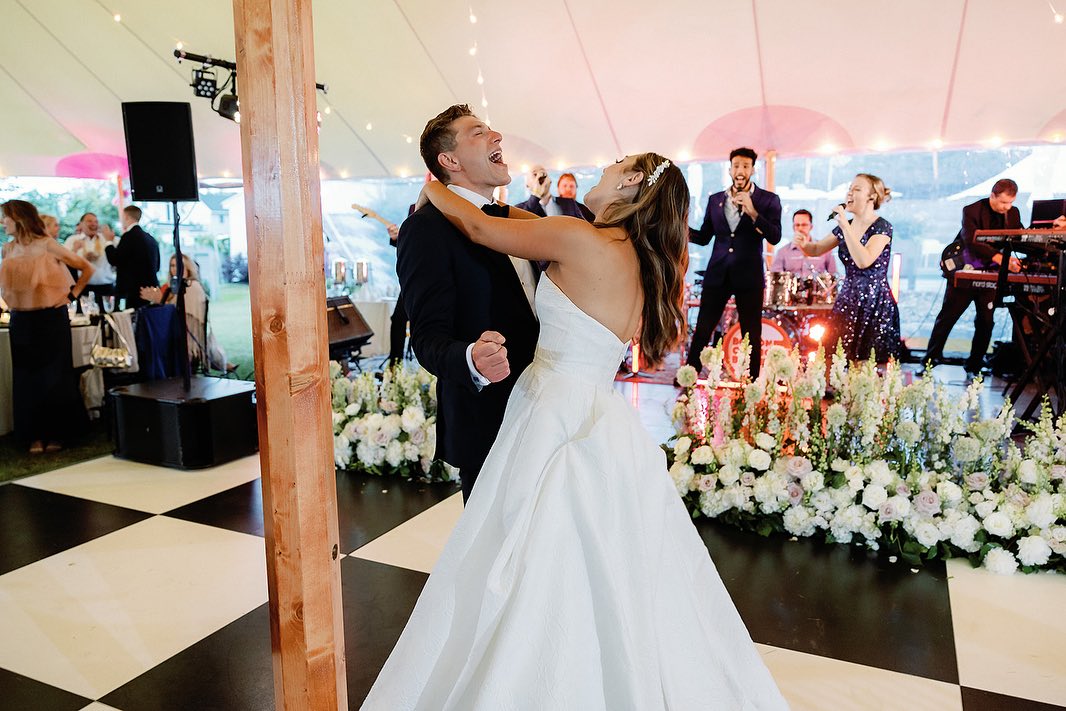 Lighting
Weddings at Wentworth by the Sea Country Club demonstrate how beautifully Sperry Tents pair with a wide array of lighting and decor options to customize and illuminate an unforgettable evening.
One of the popular styles couples can choose are rattan baskets and pendant lighting. They add a cozy ambiance to any occasion and can be mixed and matched with chandeliers or Moravian stars to transform the space to reflect personal styles.
Bistro lighting, with exposed strands and globe lights add a beautiful sparkle to any reception. Delicate paper lanterns provide a subtle and romantic glow, while crystal chandeliers bring a touch of glamorous elegance. Looking for additional inspo? Visit this link for unique ways to brighten your space!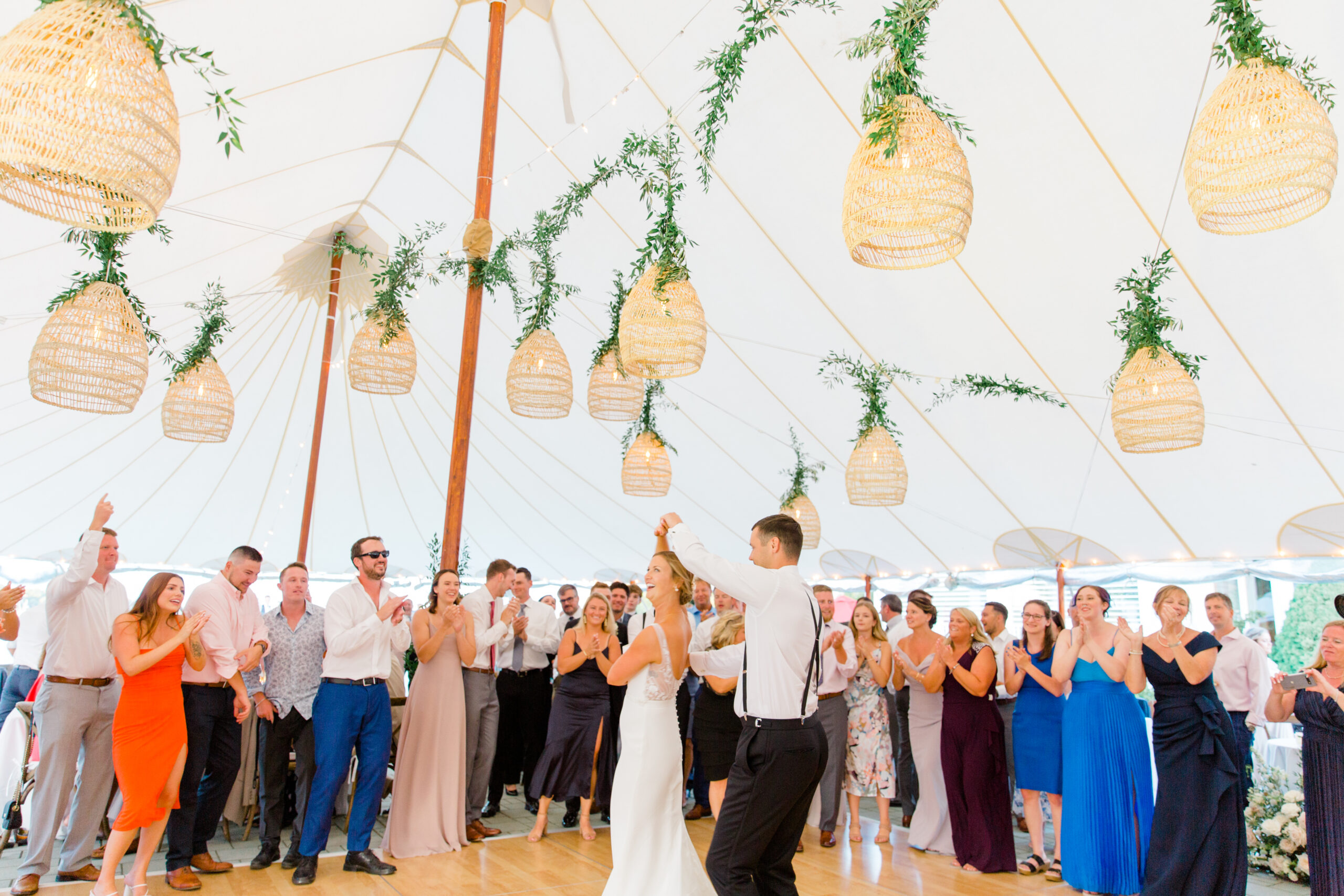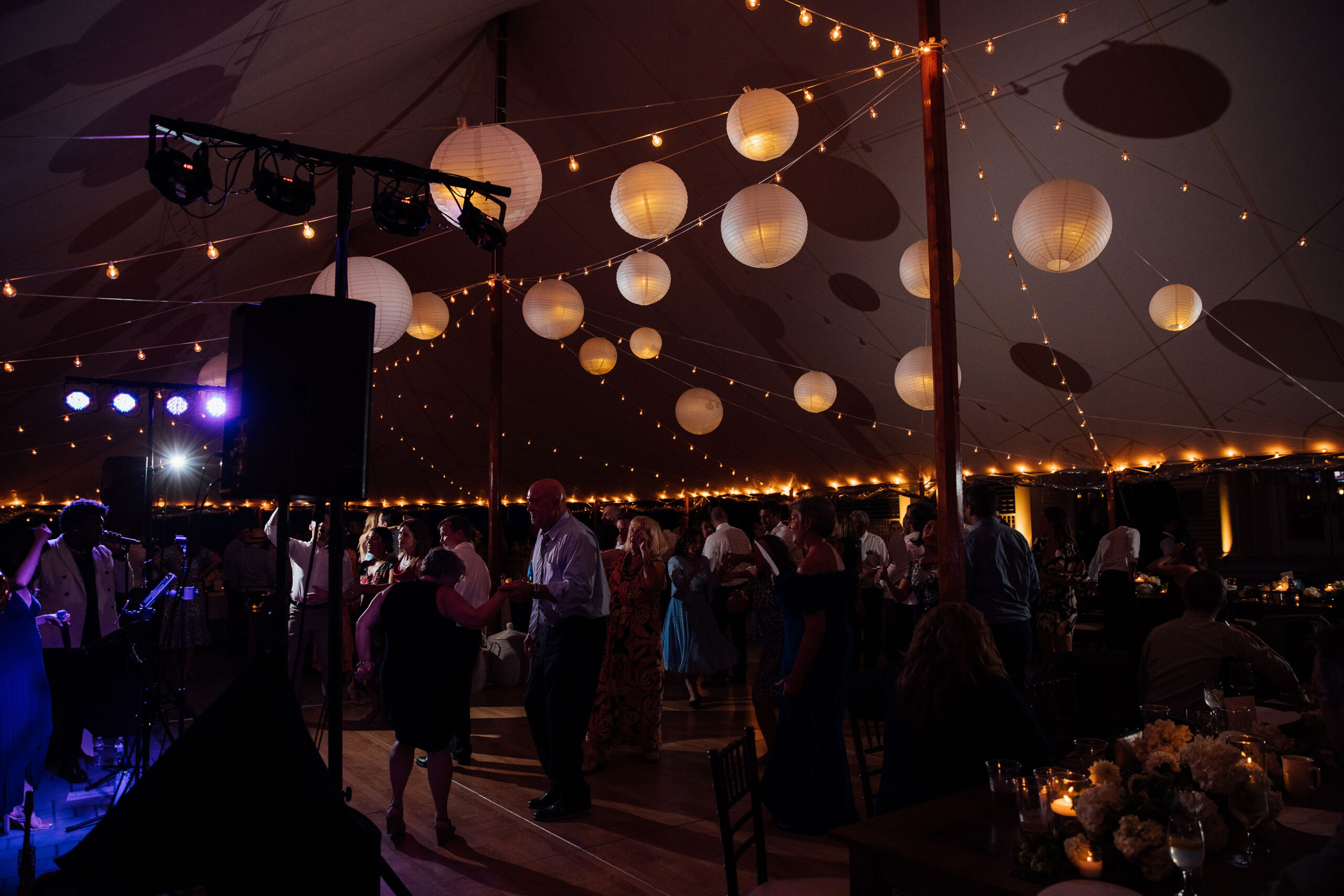 Tables and Linens 
Tables not only contribute to the design aesthetic, but also serve as the main gathering spot for guests. From options that seat two to those that seat twelve, Sperry Seacoast Tents has a variety of offerings to perfectly suit your vision.
A sweetheart table, designated just for the couple, provides a space of intimacy in the midst of the day's festivities. These tables become a focal point of the tented reception with beautiful centerpieces or cascading florals. For guest tables, a popular choice is rustic farm tables. These long tables, with their natural look, add charm to the elegance of the sailcloth tent. Many couples also opt for the look of traditional round tables, providing a space for guests to easily converse.
To enhance the look of any table, Sperry Tents Seacoast offers over 25 fabric choices in a variety of colors and textures for your tablecloths, runners and napkins. Couples have the option to mix and match bright and neutral colors or select a classic all-white look for their decor.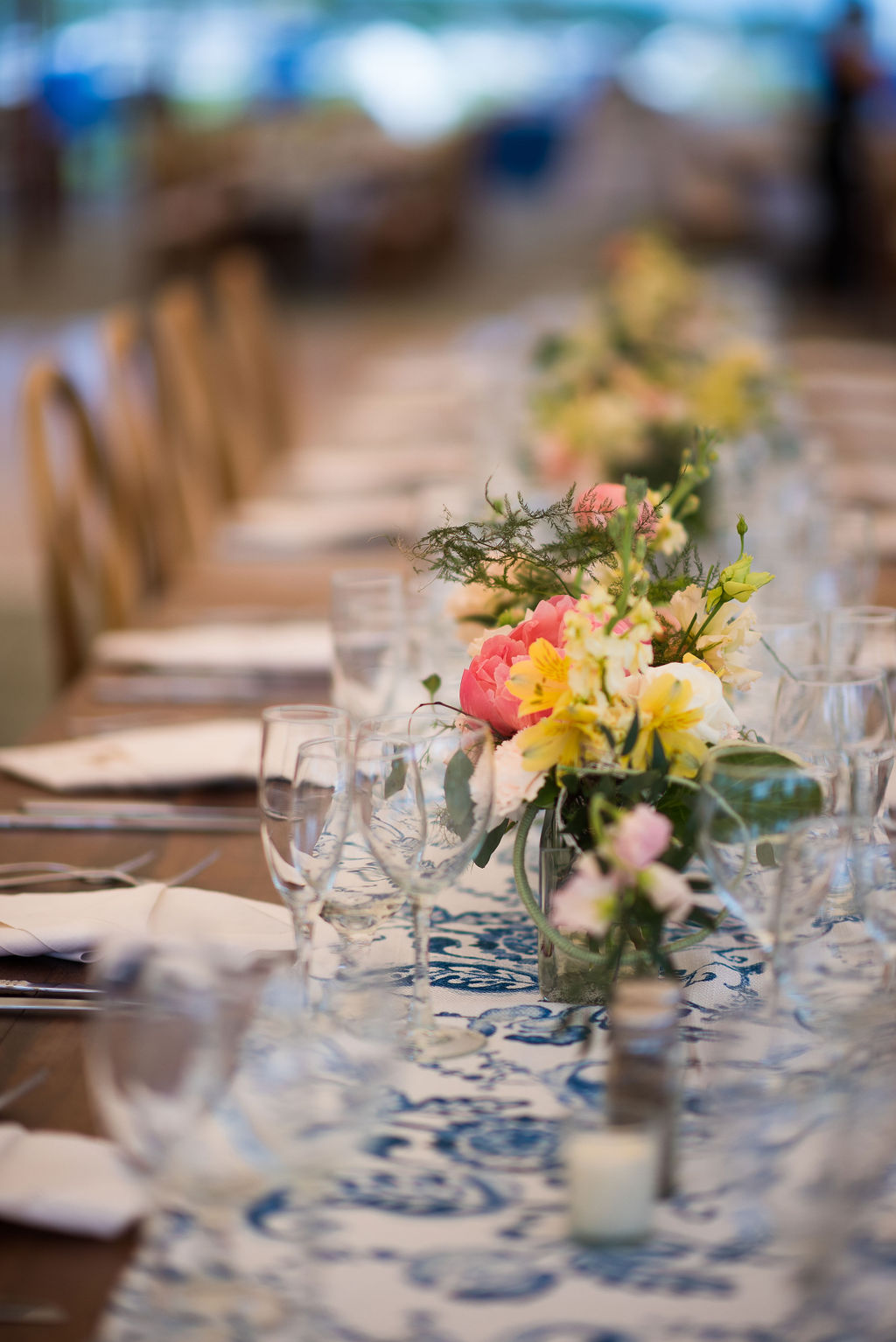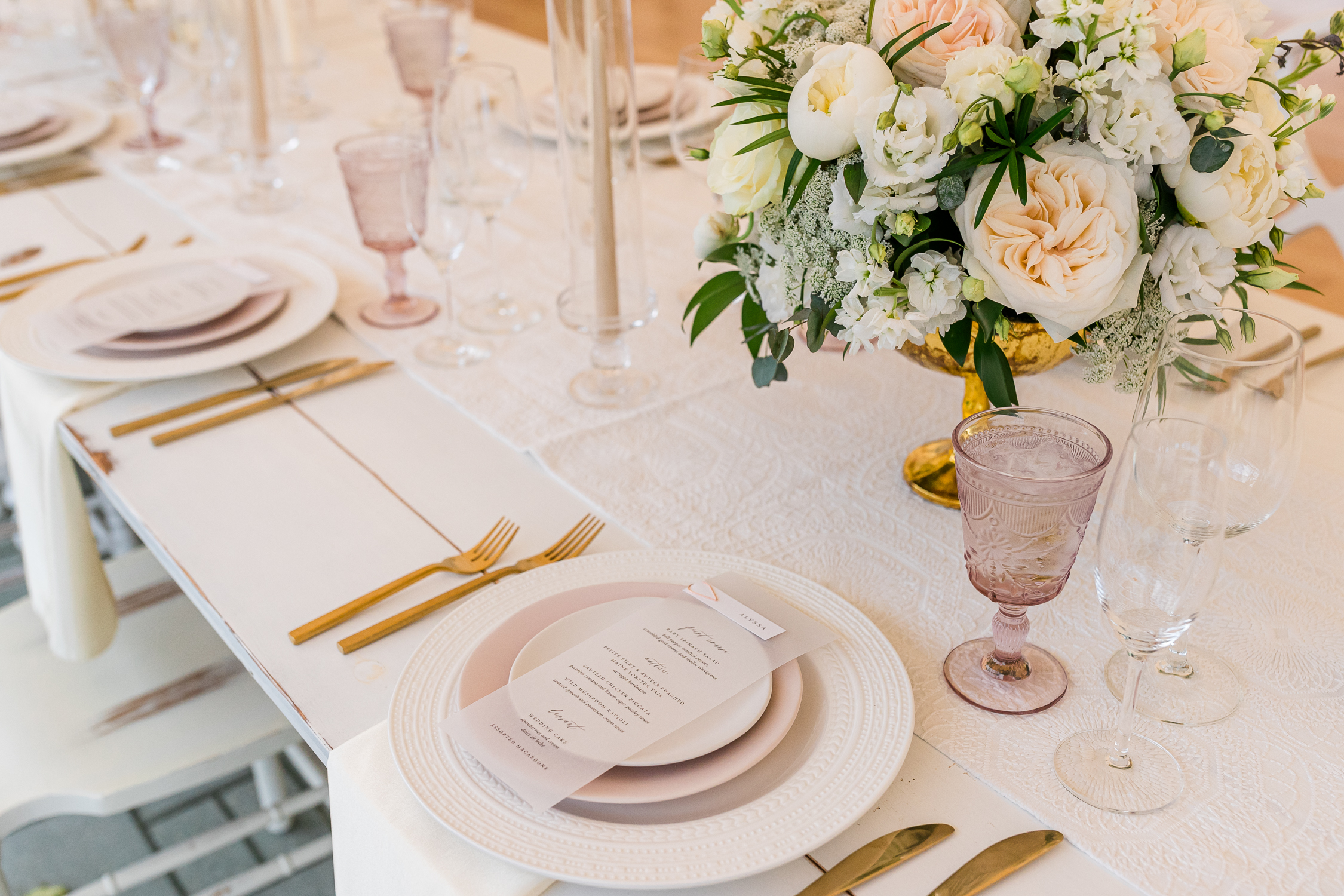 Flatware, Glassware, Chargers & China  
Once a couple has selected their table sizes and shapes, it's time to add personal touches with tablescape planning! Guests will be impressed once they make their way to their seat to find thoughtful touches.  
For your flatware options, Sperry Tents Seacoast suggests "Chateau will complete a vintage or classic look, Etage and Velo give a more modern and clean feel, Forged will complement a nautical-themed event, and Brushed Gold gives a pop of color."  
When it comes to glassware, couples have the option to go with elegant and classic options, or add a touch of personality with either gold-rimmed champagne flutes or incorporate colored amber, blush or sapphire goblets. Sperry Tents also offers nine different plate styles, including printed patterns and classic white, as well as beautiful wicker, gold bead glass and bronze antique chargers.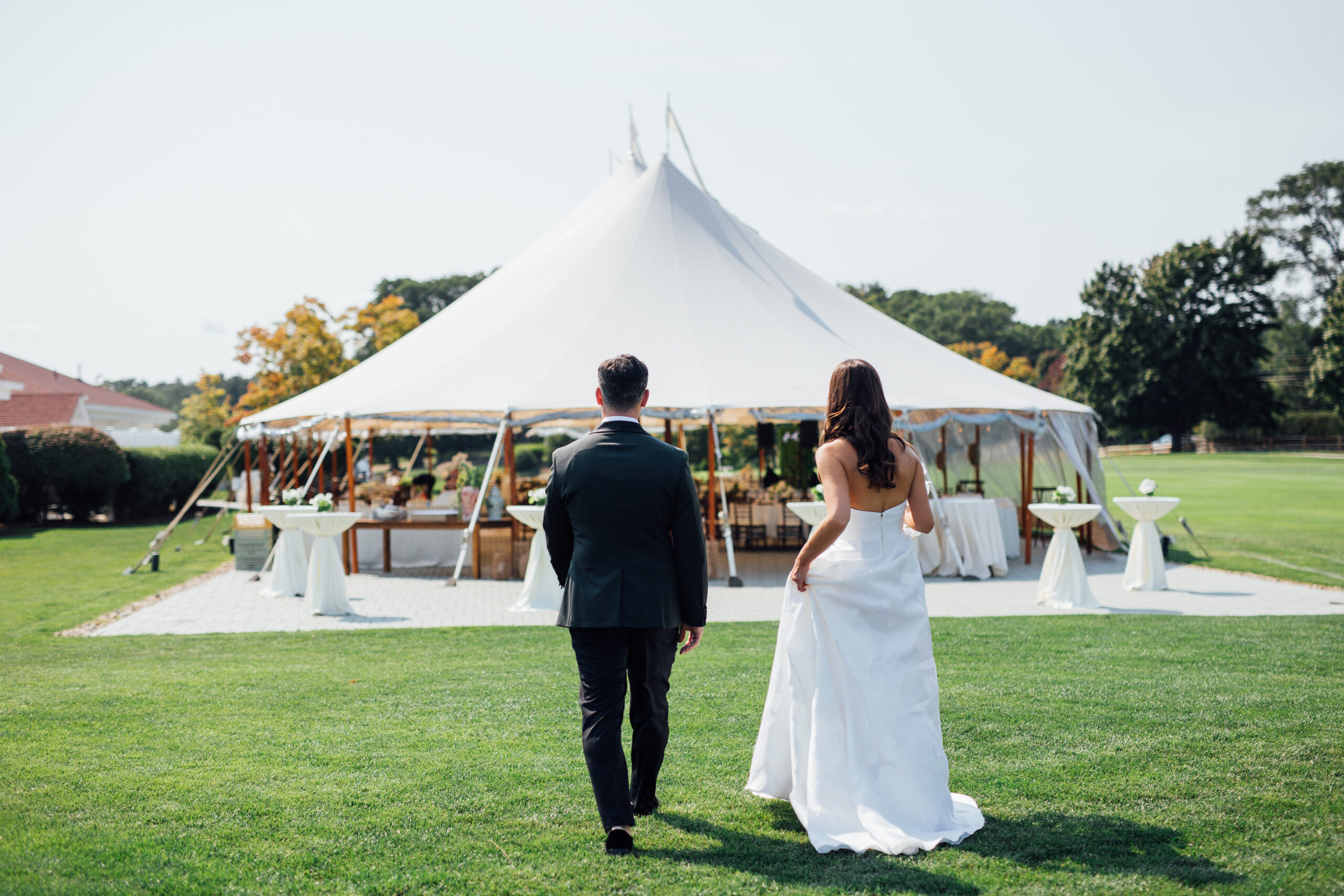 Wentworth by the Sea Country Club
Wentworth by the Sea Country Club is committed to making your dream wedding a reality. We invite you to come see it for yourself! Contact our Wedding & Events Team to schedule a walkthrough of our beautiful wedding venues and discuss the endless possibilities and offerings from Sperry Tents Seacoast to personalize and elevate your New Hampshire wedding. 
Photography: 
J&J Photography, Kiely Photography, Casey Durgin Photography, Addie Roberge Photography, Alex Paul Photography, The Libbys Photo and Films, Addie Roberge Photography, Tiffany Von, Nate and Jenny Weddings, Lisa Wotkowicz, Addie Roberge Photography