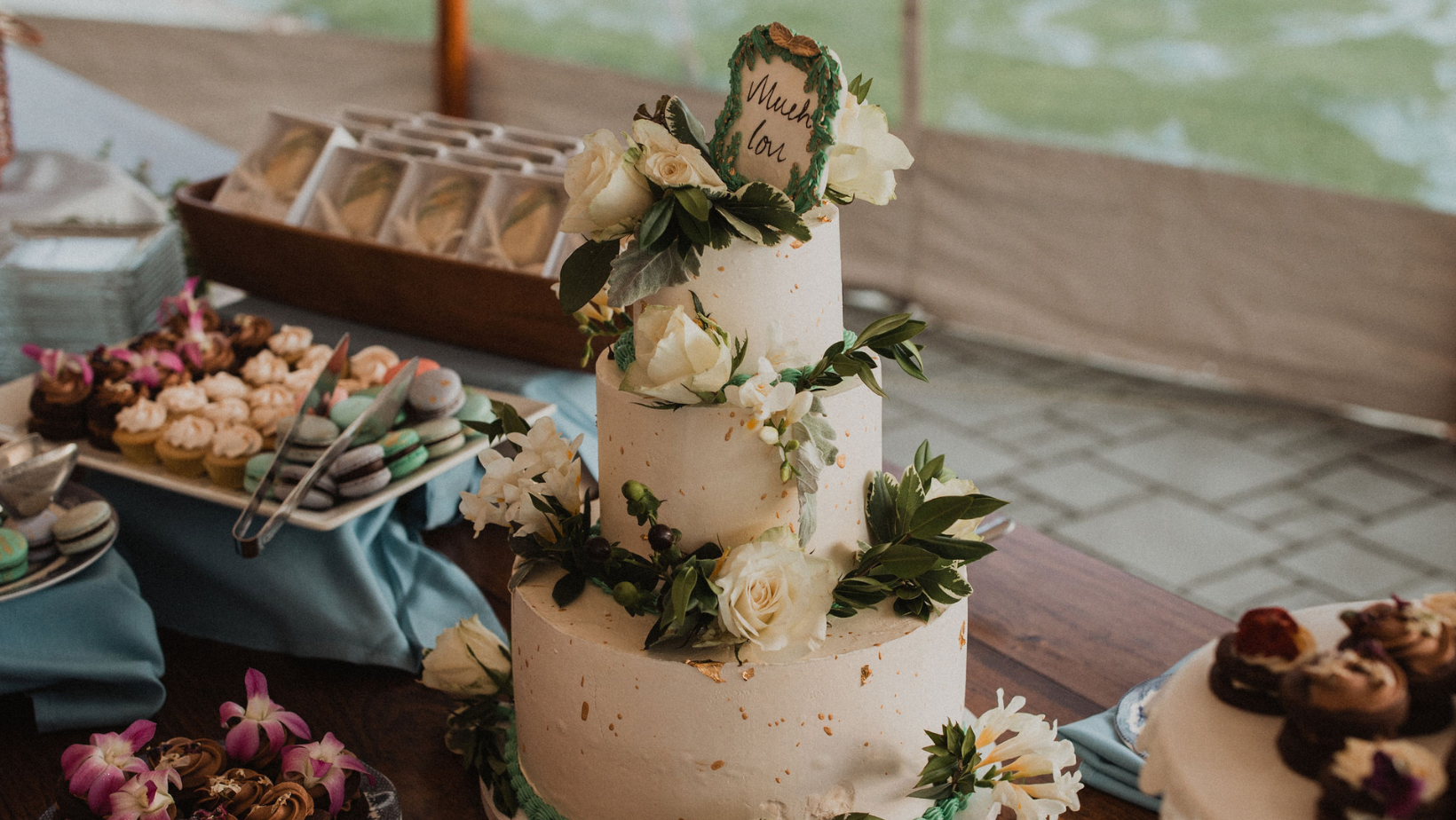 We all know the sweetest part of a wedding, other than the first dance, is the dessert table! Choosing wedding desserts to fill the table that are not only delicious but complement the wedding's design elements and accommodate taste preferences can be an important decision.  
In this blog, our Wedding & Events Team explores three different approaches to wedding desserts and offer delicious recommendations along the way.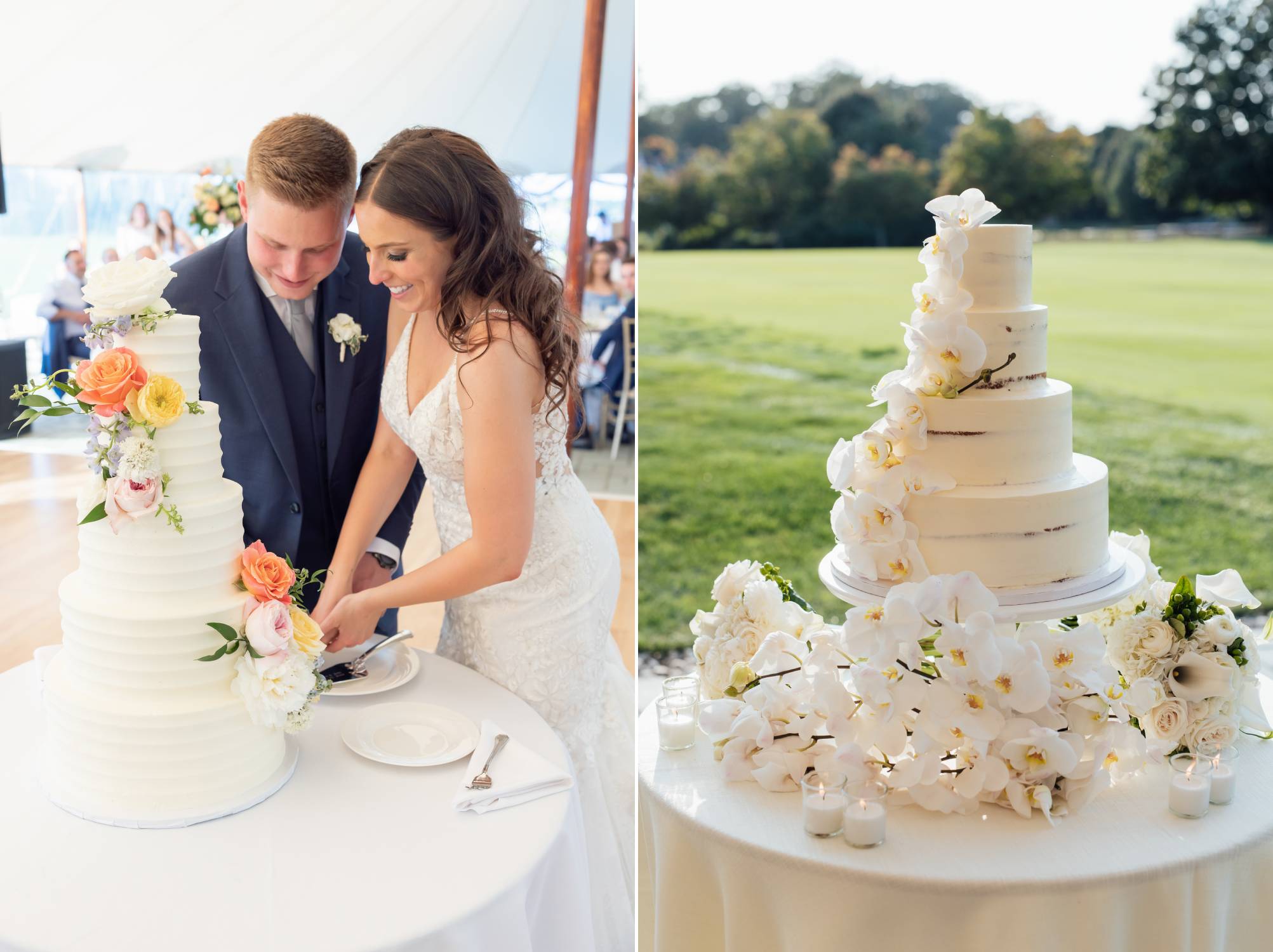 Traditional Cake
The traditional wedding cake is still a top choice of dessert which is no surprise to us! It's timeless, and for some, the cake is an extremely important piece of their wedding. There are many benefits to choosing a traditional wedding cake, including:
Wedding cakes have long been a symbol and offering of "good luck to guests and couples."
Beautiful details, intricate designs and grand tiers are an aesthetically pleasing aspect of any wedding.
A cake can act as a centerpiece and focal point to the wedding aesthetic.
On trend are layers of cake flavors within the traditional cake – talk about letting the layers speak for themselves!
White cakes match white, elegant, and timeless wedding dresses, making them suited beautifully for traditional weddings.
There's nothing boring about a traditional cake, It can even bring out your own unique charm!
If you're looking for local bakeries to design and bake the cake of your dreams, we recommend Sweetened Memories Bakery, Mezzanine Catering and Paints and Pans.
Downsized Cake + Additional Treats
Some couples are choosing to have a traditional wedding cake on a smaller scale to accommodate additional dessert options. The cakes are decorative, focusing on the tradition of the cutting of the cake, while giving a wider variety to their guests through other treats.
This approach is accommodating to more taste palettes while still honoring "tradition."
The combination of traditional and modern, allows for more personalization and design elements.
Bite-sized, luxe options and smaller cake portions allow for sampling of flavors.
Cupcakes, eclairs, cannoli, macaroons, cake pops, , and mini cheesecakes are popular choices for these extra bites, such as ones made by Popovers on the Square.
If you're looking for additional ideas, consider these from The Knot: 20 Wedding Dessert Ideas to Serve With Your Cake.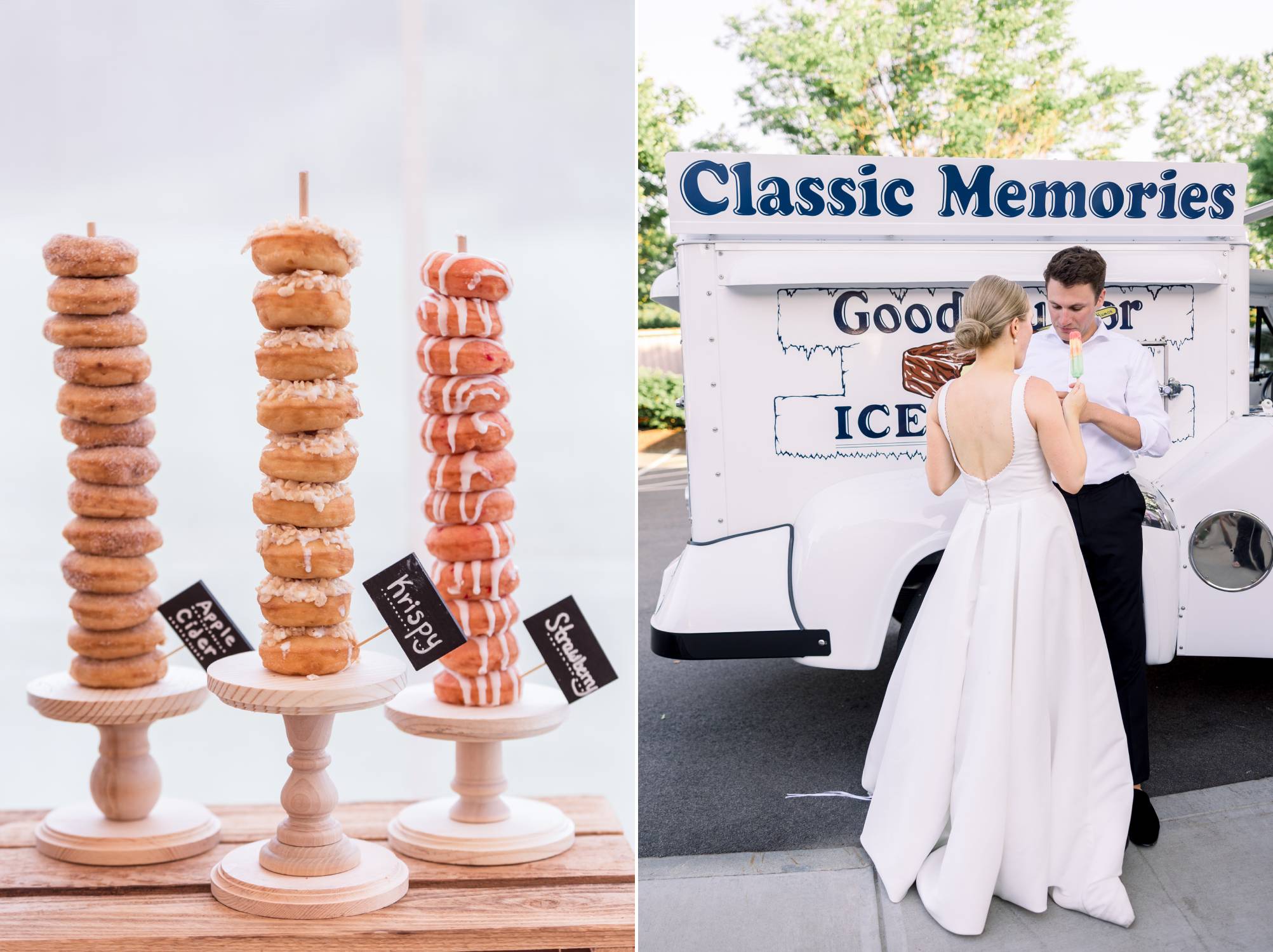 Unique Offerings
Choosing to forego wedding cakes all together for unique dessert experiences that play into the personality of the couple is a trend that's caught our eyes. If there are dietary restrictions among wedding guests, this can be a tasty alternative!
Channel nostalgia into ice cream treats (from our friends at Classic Memories and Cookie Monstah) or donut displays, sugar flowers, cake hoops and bold statements.
Feature a candy charcuterie board where guests can pick and choose their dream candy mix!
Bite-sized desserts allow your guests to enjoy sweets on the go allowing more time to break it down on the dance floor.
Set up your own espresso shop with Espresso Dave – everyone will enjoy it and be thankful for the caffeine late into the evening!
No matter what you choose, guests will appreciate your creativity and attention to detail making their wedding experience that much more memorable.
Wentworth Weddings
Wentworth's proximity to regional bakeries and local vendors in Portsmouth, New Hampshire make it a premier location for the wedding and desserts of your dreams. Contact our Wedding & Events Team today for more information about vendors, our venues and to schedule a tour!