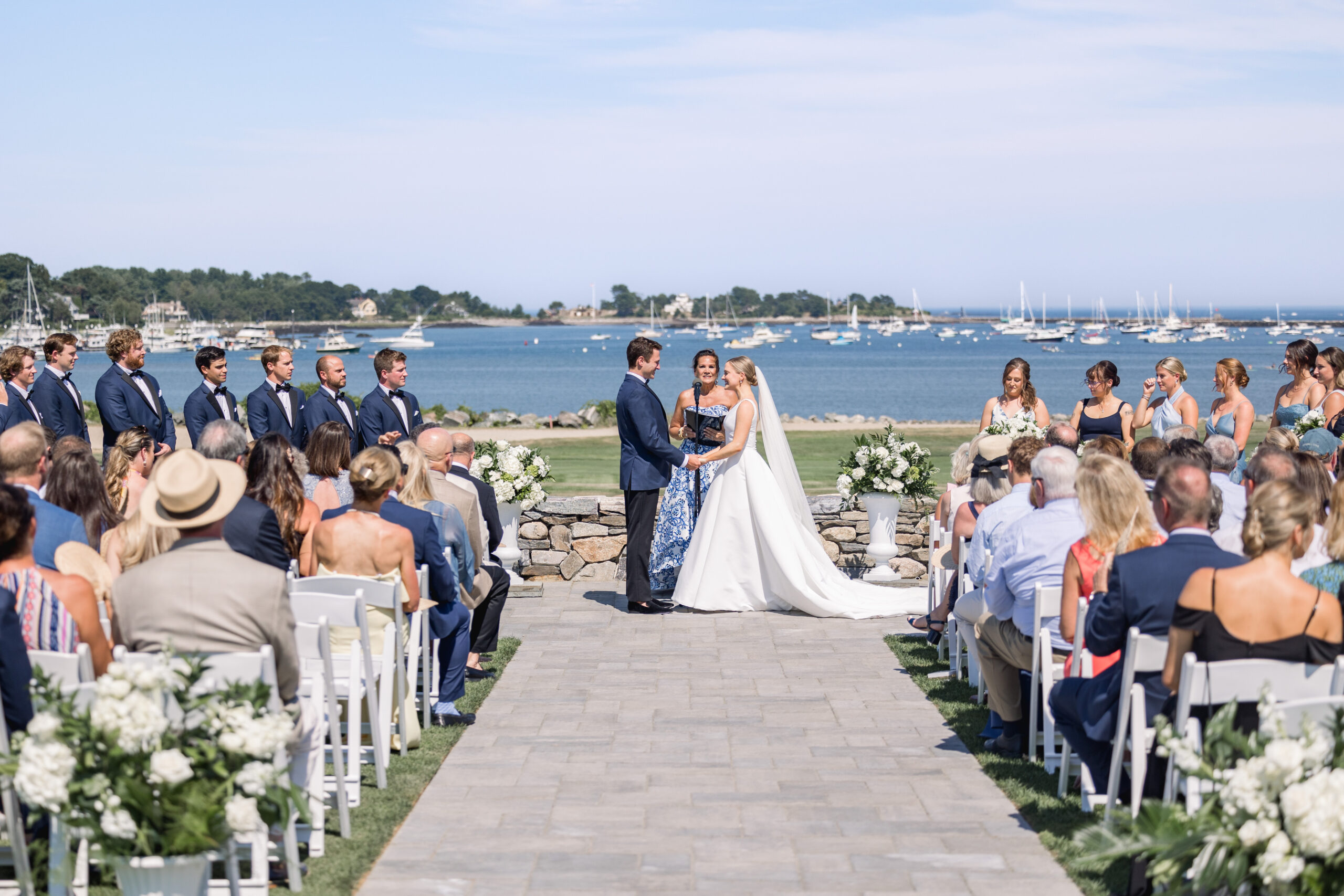 Over the years, wedding ceremonies have evolved from traditional affairs to personalized celebrations that reflect each couple's unique style, personality and love story. Much care and consideration go into the setting where you say 'I do,' which is why the Wedding & Events Team at Wentworth by the Sea Country Club is narrowing down the details that make this milestone unforgettable.
Keep on reading to explore the elements that can make your wedding ceremony an extraordinary experience.
Flowers
Flowers play an important role in a wedding, adding color and fragrance to the ceremony and creating a sense of beauty and elegance. At Wentworth by the Sea Country Club, our beautiful venues provide endless possibilities that complement any aesthetic.
Make a lasting first impression with a welcome arrangement! These stunning florals are an excellent way to set the tone for the ceremony and create a welcoming atmosphere. They can be placed at the entrance or near the guestbook table, a perfect spot for guests to snag a photo before the ceremony begins.
Typically placed on the aisle chairs, beautiful chair arrangements can add a sense of fullness to the space – and create picture-perfect moments! From simple bunches of roses to delicate greenery, chair arrangements can be as elaborate or as simple as desired.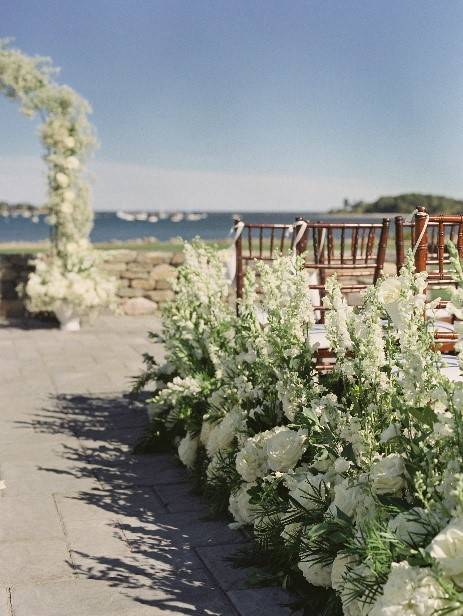 Floral arches are one trend that we do not see going away anytime soon! They create focal points for the ceremony, framing the couple and providing stunning backdrops for photographs. From wooden arches draped in ivy to elegant structures adorned with cascading hydrangeas, there are endless design possibilities.
Repurposing Ceremony Flowers
One of our top tips for couples is repurposing ceremony blooms for use in their reception. Chair arrangements can be moved to the reception entrance or in front of the band stage, welcome arrangements can be placed near the bar and bouquets can be added to a vase at your sweetheart table or a separate spot that could use a floral boost!
Welcome Signs
A personalized sign is an excellent way for couples to greet their guests as they arrive at the wedding ceremony. They can be designed to match the overall theme of the wedding, using the couple's chosen color scheme and design details. The welcome sign can also serve a practical purpose, providing directions for guests to easily locate the ceremony location.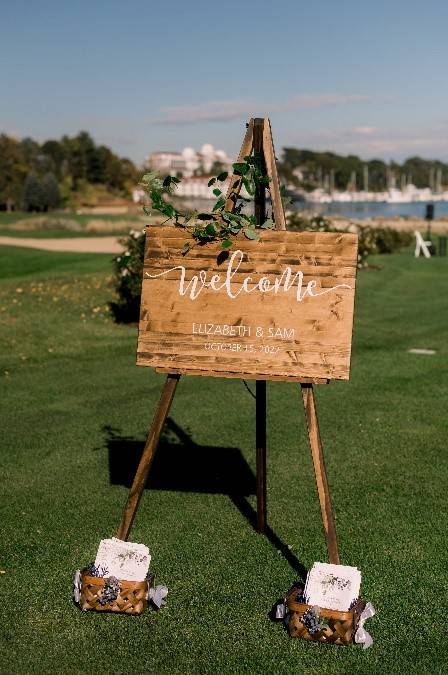 Music
Music can make all the difference in creating a memorable ambiance for the big day, from pre-recorded tunes to live performances.
Many couples create a pre-recorded curated playlist for their ceremony filled with nostalgic or classic songs – including favorites from Ed Sheeran, Adele, Michael Bublé and Taylor Swift.
Live musicians, such as harpists or violinists, bring a certain charm and elegance. Whether it's a rendition of the couple's favorite song as they exchange vows or a joyful instrumental performance during the processional, live music can be timed to a tee and offers a unique sense of intimacy.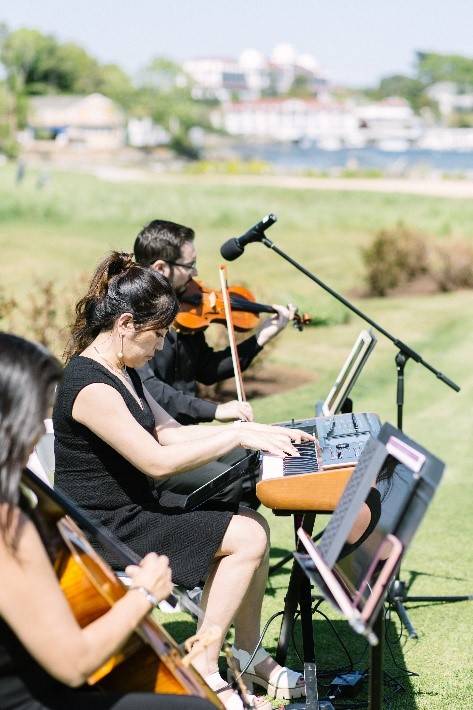 Officiants
When it comes to picking an officiant, couples have options when choosing who to preside over their ceremony.
A professional officiant brings expertise, experience and a calm demeanor to guide the couple through their vows and ensure a smooth flow of the ceremony. Their guidance helps alleviate uncertainty, allowing the couple to fully immerse themselves in the moment.
Having a loved one as the wedding officiant can bring a unique and intimate touch to the ceremony – did you know that over 55% of American weddings are officiated by a family or friend? Whether it's a close friend, a family member, or even a beloved mentor, their presence symbolizes their support, love and guidance.
Pets
For many couples, pets are more than just furry companions—they are cherished members of the family. Including a pet in the wedding ceremony can add an extra dose of joy, love and adorable moments.
One of the most popular ways is to have them walk down the aisle, also providing a source of entertainment for your guests! Couples are also including their pets on special signage, signature drink names, cake toppers or cocktail napkins.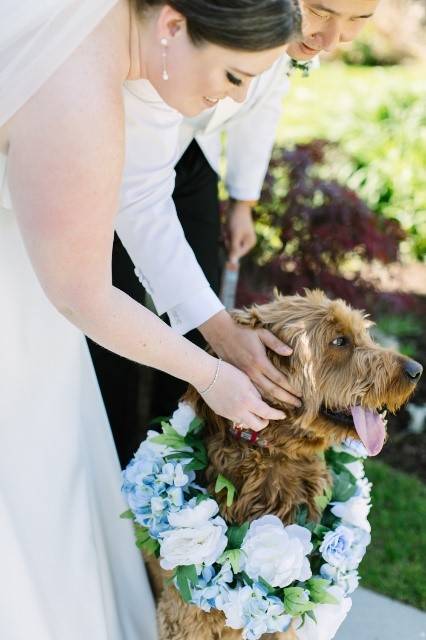 Live Painters
By hiring a live wedding painter, you can have a beautiful piece of art created during your wedding ceremony that you can look back on for years to come!
These talented artists have the ability to beautifully capture the essence and atmosphere of the special day in real-time. Guests will be blown away by this unique detail and appreciate the opportunity to witness the creation of a stunning work of art.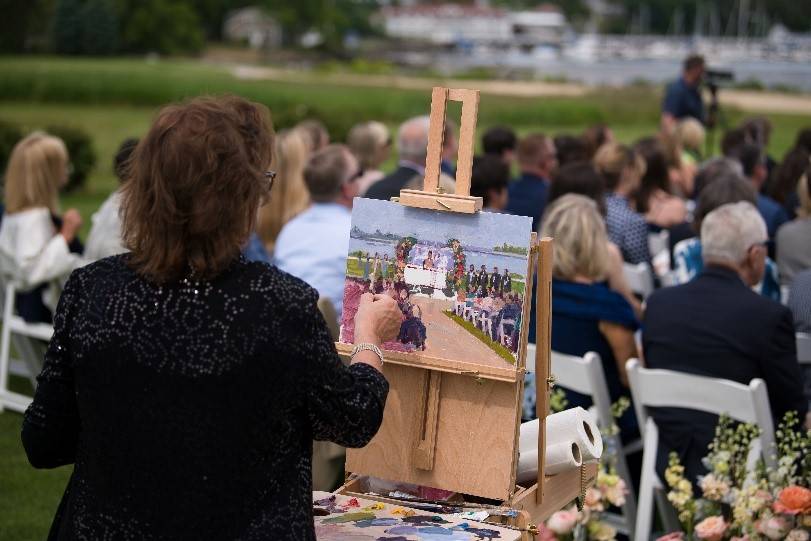 Wentworth by the Sea Country Club
When envisioning your ceremony at Wentworth by the Sea Country Club, there is no greater outdoor setting than the view of The Little Harbor in Rye, New Hampshire. Nestled near the 17th tee, The Lawn provides an unmatched backdrop for your seaside ceremonies and pictures. Our inclement weather plan ensures that should Mother Nature interfere with your planned outdoor ceremony, an equally breathtaking indoor or covered backdrop under The Pavilion is available.
Contact our Wedding & Events Team today to discover wedding availability so you're one step closer to planning your big day!
Photographers: The Libbys Photo & Films, Tiffany Von, Casey Durgin Photo, Megan Clouse, Nate and Jenny Weddings