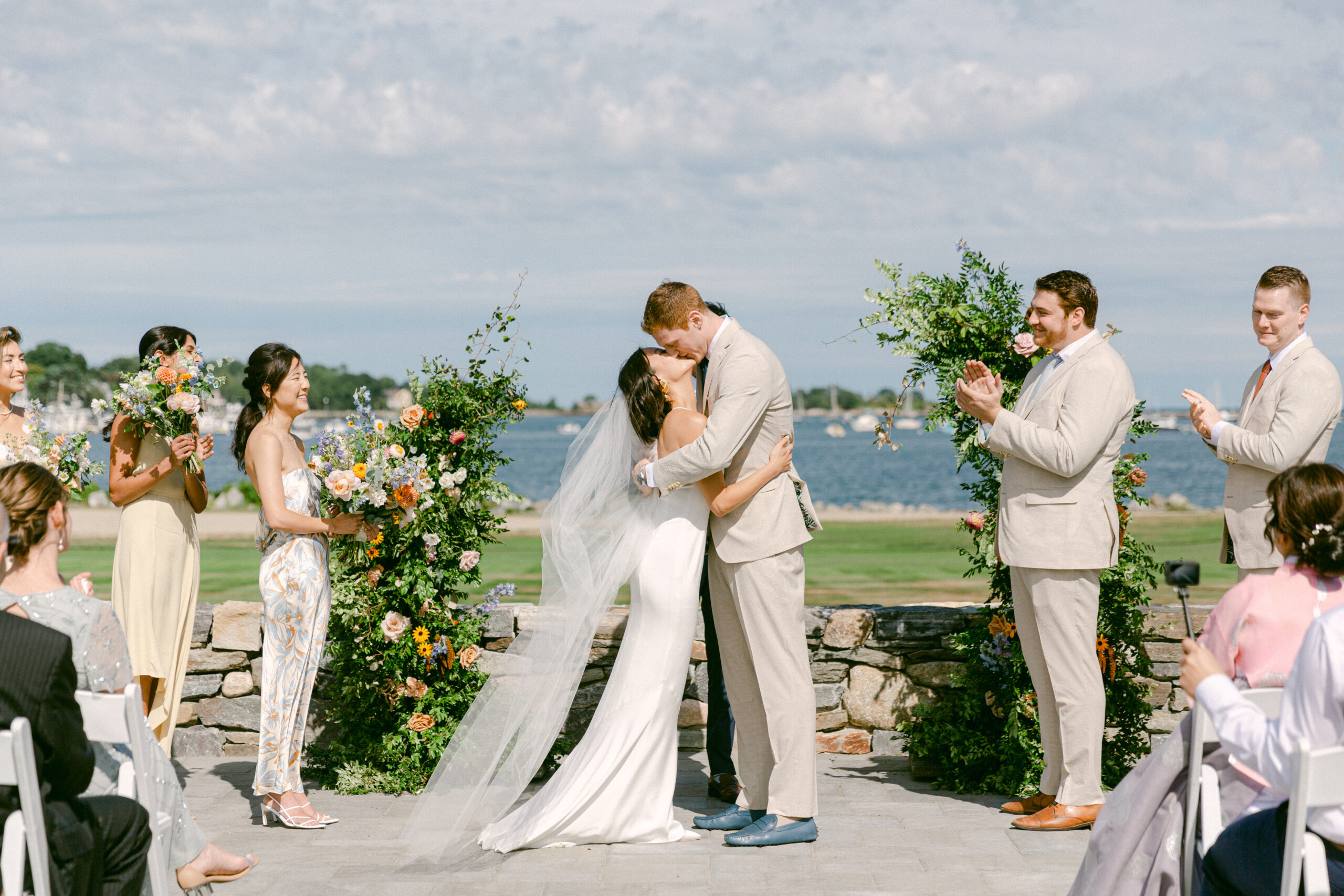 If you are planning a wedding, you know the flowers that adorn your venue provide an opportunity to create a memorable experience! From bouquets to centerpieces and beyond, blooms have the power to bring life, beauty, and style into any space. Whether you prefer classic arrangements or more exotic varieties, Wentworth by the Sea Country Club couples have the freedom to pick and choose the styles they love most!  
In this blog, we explore the possibilities and look to current trends identified by experts in the field, including our Wedding & Events Team and "The Knot," to help you find the perfect wedding blooms. 
Colors & Aesthetics 
The first thing to consider when it comes to your wedding flowers is the color palette and overall aesthetic. From pink peonies to terracotta roses and fresh green frills, there are many colors to choose from when it comes time to picking your blooms. So, let's look at a few trends to see if something sparks your imagination! 
Traditional & Romantic 
To channel feelings of romance and elegance, opt for a traditional color palette including reds and shades of pink to add depth to any floral arrangement. Feature roses, peonies or dahlias in custom ceremony floral arches or reception installations to evoke a timeless and dreamy environment.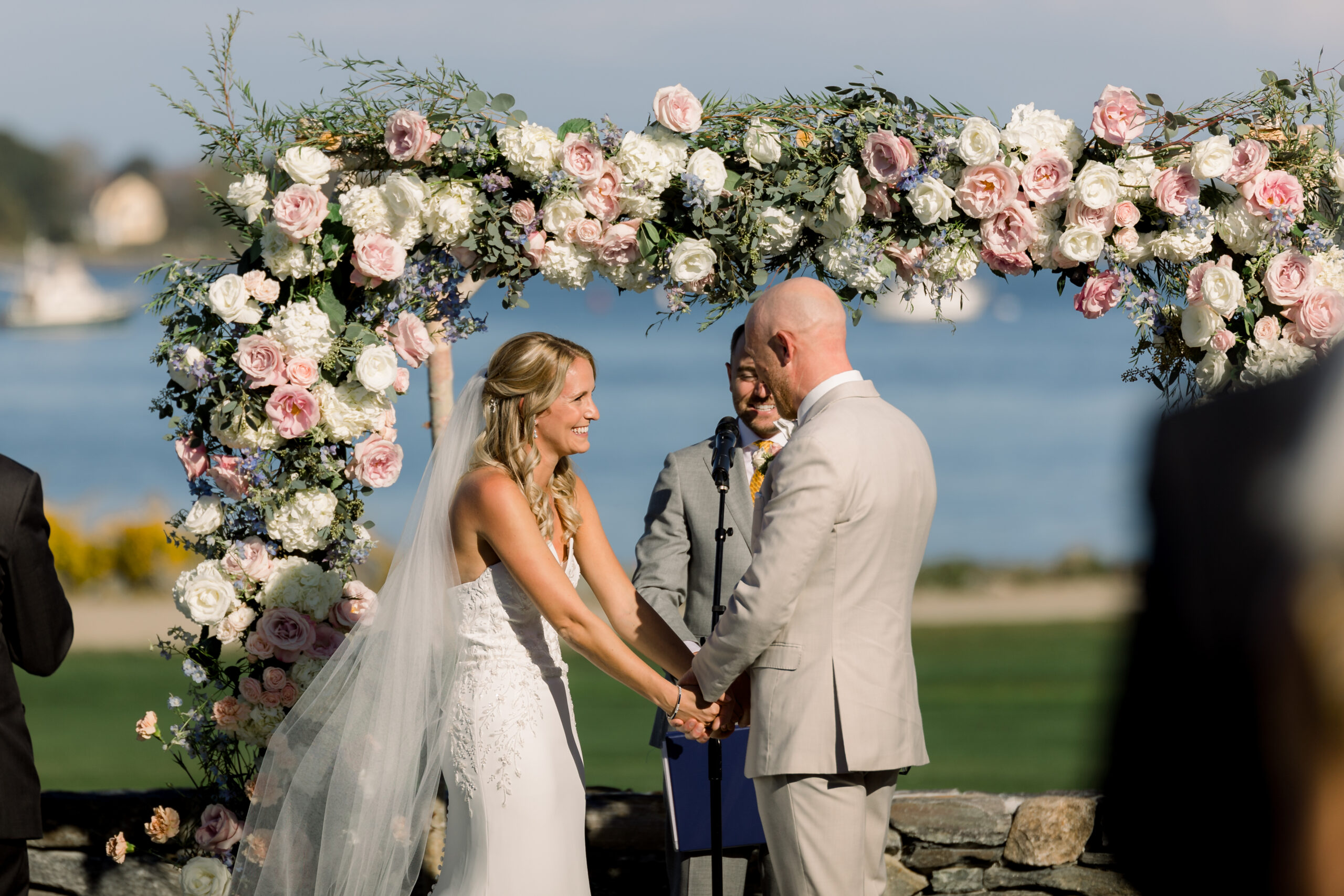 Soft & Ethereal  
Incorporate soft colors such as yellows, blues and pearlescent whites to create a fairytale atmosphere that reflects natural light beautifully. The ethereal look of irises, calla lilies and ranunculus are stunning alongside the graceful lines and delicate draping of our beautiful Sperry sailcloth tent. 
Whimsical & Boho 
Combine a unique mixture of flowers such as daisies, sunflowers, dahlias and garden roses to create a textured look that emulates an eclectic and eye-catching aesthetic that is sure to stand out. Our Wedding & Events Team has seen the boho trend showcased through woodland-inspired bouquets featuring a mixture of wildflowers, foliage and contrasting colors to create this organic feel that's bursting with personality, perfect for an outdoor ceremony.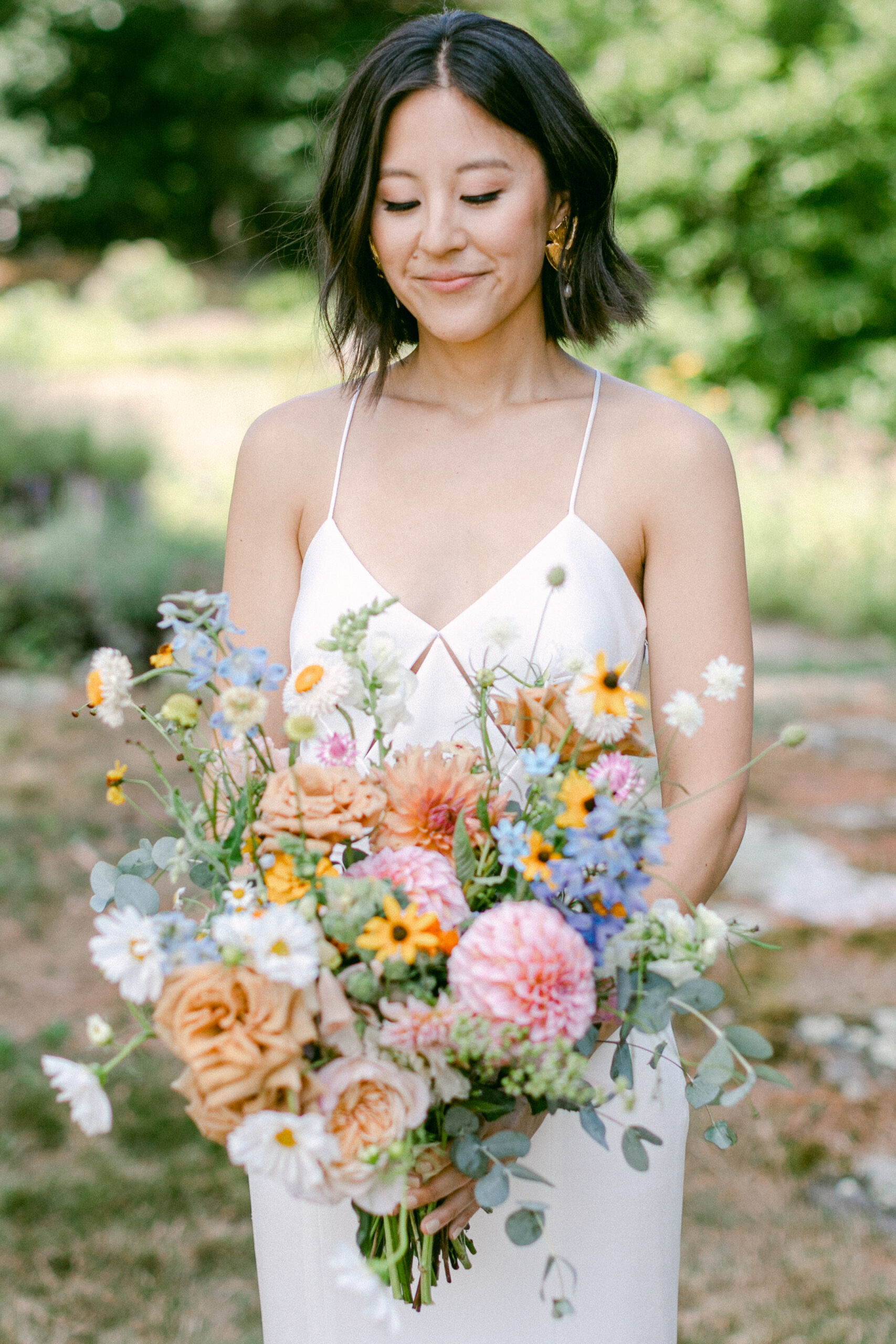 Chic and Minimalist  
At Wentworth by the Sea Country Club, couples have been opting for chic looks for their bouquets, centerpieces and ceiling installations including monofloral arrangements that display a minimalist and effortless look. From roses to lilies, there are endless options to explore when it comes to this trend. If timeless elegance is your vision, try combining different shades of white and ivory. To complete this style, add gold accents such as ribbons or pearls to give your floral arrangements an extra touch of sophistication!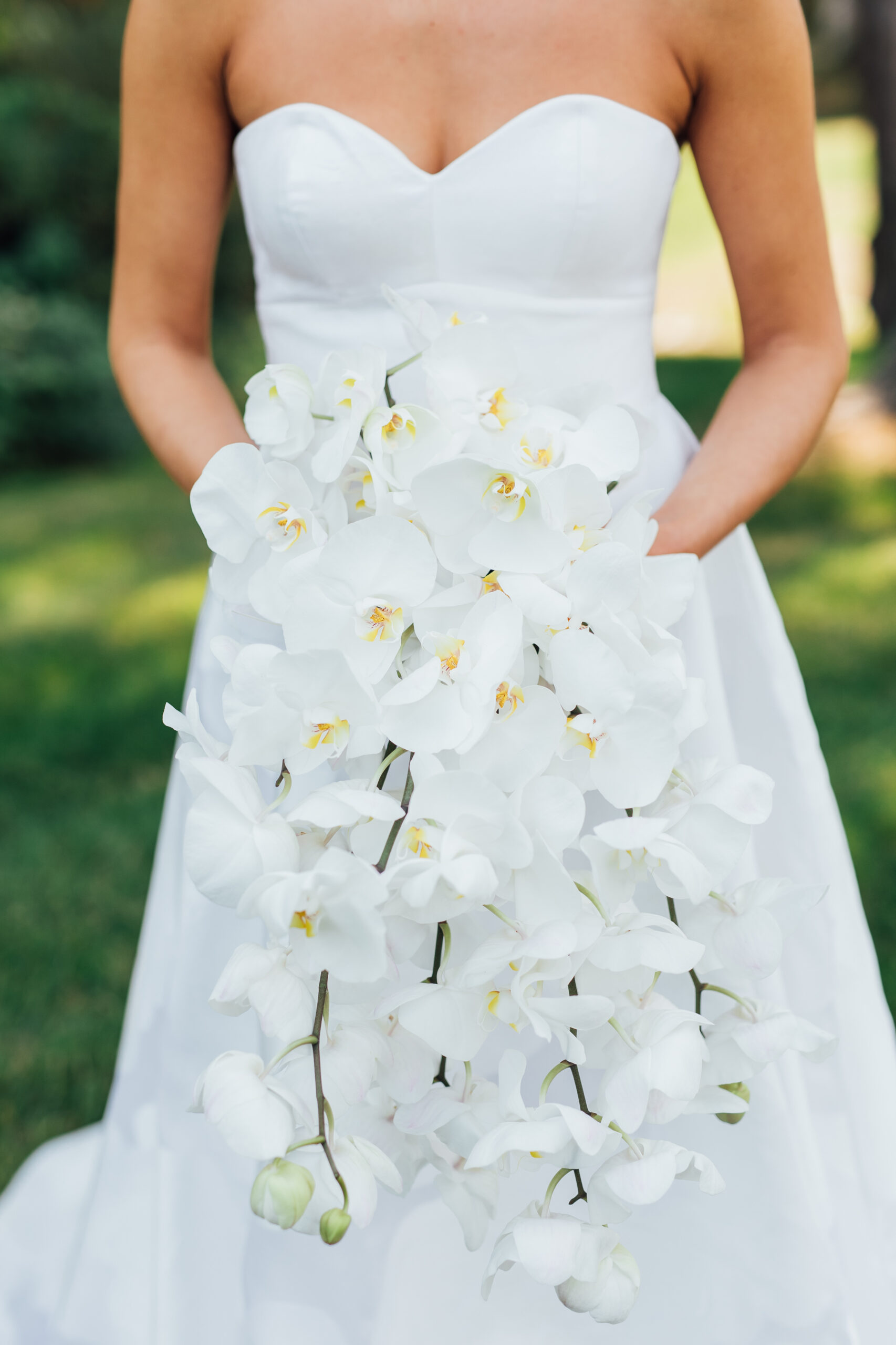 Bold & Statement Making 
For a bold statement, go for bright colors such as oranges and magentas (Viva Magenta is Pantone's color of the year)! These shades will pop and add fun elements to any wedding. 
To make the most of this style, you can incorporate different textures, such as raffia or dried flowers, to create a dramatic yet inviting display that your guests will remember forever. One of our favorite cakes from the past wedding season was a beautiful white cake with colorful floral accents!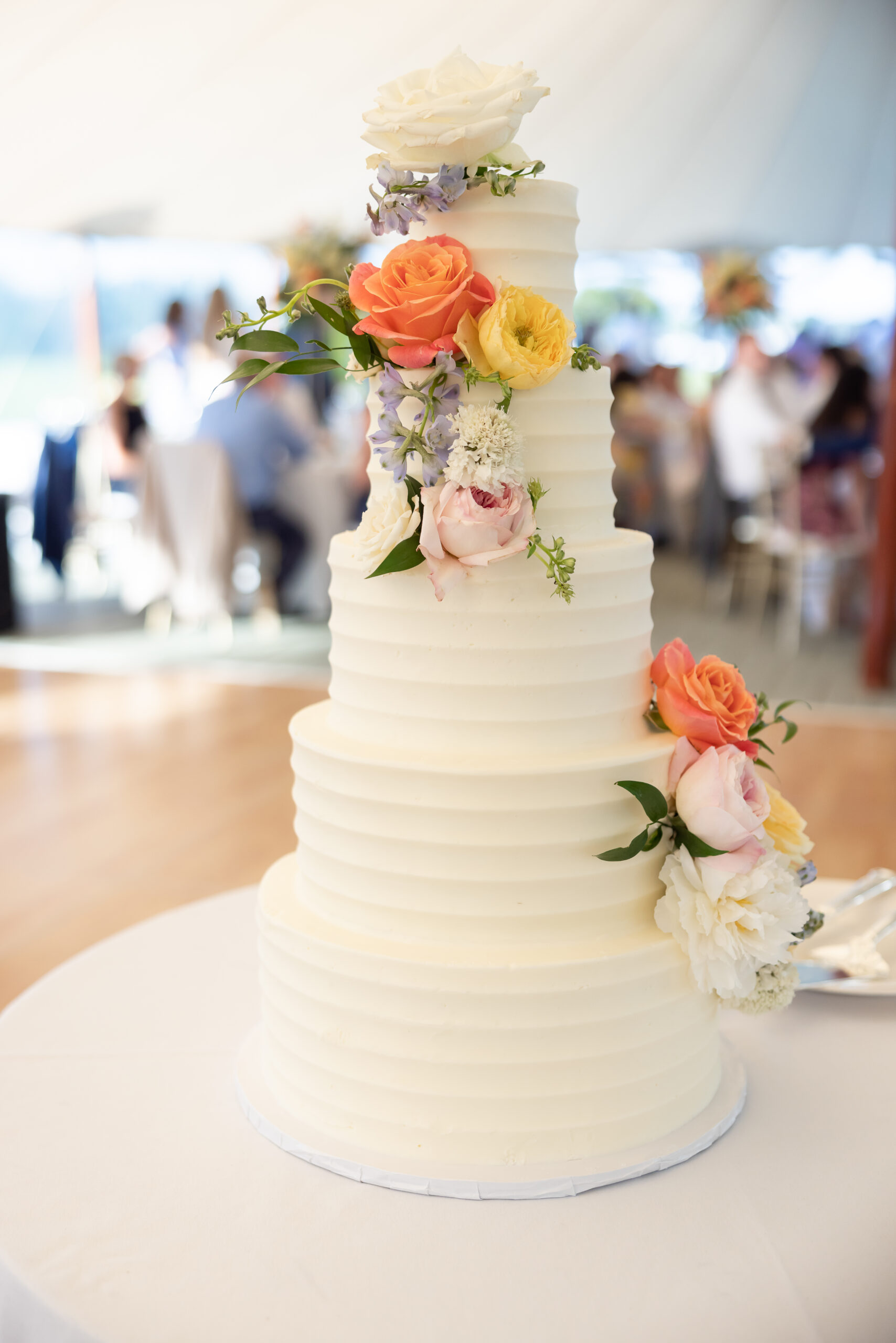 Luxurious & Lavish 
For a truly luxurious feel, select deep red roses, eucalyptus leaves, dark berries, regal plum calla lilies and vibrant ranunculus. With the current rise in popularity of jewel tones, these options give off sophistication that's perfect for couples wanting to create a lavish experience for their guests. Our Wedding & Events team recommends carrying  this aesthetic throughout the rest of your decor – luxe napkins, linens, floral installations and tentrances are unforgettable touches. 
Vendors 
With all this information at your side, it's time to look for a florist that can make your dream wedding come to life. At Wentworth by the Sea Country Club, we work closely with you and talented, local vendors who create captivating floral designs perfect for all wedding aesthetics. Below are just a few we have worked with recently:  
If you're curious about how to maximize your budget when it comes to your wedding blooms, Wentworth by the Sea Country Club's experts recommend repurposing your ceremony florals and bouquets.  If you are hosting brunch the next day, reuse your centerpieces, bouquets, and any other arrangements to give your guests a special treat.  
Wentworth By the Sea Country Club 
Wentworth by the Sea Country Club offers a unique setting that is perfect for any special occasion and any design vision! With our beautiful Sperry sailcloth tent to accommodate your guests and stunning views of the seaside, your big day is sure to be an unforgettable experience.  
Interested in exploring our breathtaking venues? Contact us today to book a tour and start planning the wedding of your dreams. We look forward to hearing from you! 
Photographers: 
Natalya de Sena Photography, Casey Durgin Photo, Natalya de Sena Photography, Addie Roberge Photography, Angela Greenlaw Photography